💥FAQ💥
Welome to our FAQ page! Here you will find a list of common questions that we get asked, along with some helpful advice on certain requirements such as stage size, generator voltage, set up and performance times. This section has been designed to save you lots of stress and provide as much information before your event as possible. We will always try and find a solution/answer to anything we have not covered in this section so that you have a great customer service experience with us.
We strongly advise all couples and people booking us that they read all of this section as we have done it to help you and make sure you have the best party possible!
Please make sure that you have a good read and discuss with your Event organiser, Venue or Wedding planner as appropriate. We will be happy to discuss or answer any queries that you may have regarding any points not covered below.
💥Does the Band have Public Liability Insurance / PAT Certificates?💥
Yes. These can be produced on the night or emailed to the venue before your event.
💥What time will the Band arrive?💥
The band arrives to set up and soundcheck at 6pm (this is usually after any evening food or speeches). If you require the band to set up any earlier than this, you will need to make us aware of this during the booking process as this will incur an additional fee. Party Music will normally start to be played through the band PA system from 7:30pm
💥How long does the Band need to set up/soundcheck?💥
Ideally the band needs a minimum of 1.5 hours to set up before performing. Please allow extra time if your occasion is on any floor other than the ground floor or if there are steps, walkways or other access restrictions to the venue.
For an additional fee the band can arrange an early setup for convenience.
The band will need to carry out a sound check before they begin their performance so please bear this in mind. This is to ensure volume levels are appropriate for the venue and to diagnose any acoustic or feedback issues.
💥How much room does the Band need?💥
As a guide the band needs enough room to cater for drums, bass and guitar set up, PA system and lighting rig. The minimum space required is Width -16 ft (4.87 metres) and Length (depth of stage) 10 ft (3.1 metres). We can adapt to spaces and venues but these measurements will give you a guide. If you have also booked a DJ for your event, please can you let them know that the Band will require the above space to set up.
If you are laying a dancefloor down in a marquee or venue please allow at least 3 metres from the back of any wall to the edge of the dancefloor - so the band can actually fit their equipment in and not be on top of your audience. Failure to do this could result in either damage to the bands equipment (which could result in the band being compensated) and possible injury to your dancing guests.
We want to make your night as spectacular as possible (this is what you're paying for after all). So in order to do this we require a certain amount of room to allow for audience interaction and movement on stage. The amount of floor space really does dictate how well we are able to perform and our Lighting Rig, Amps, PA and Drum kit have size footprints that cannot be altered or reduced, to enable us to squeeze into a tiny corner... and Nobody should ever put baby in a corner right? :-)
Once the equipment has been set up and soundchecked we are not able to move it. So please ensure that if you have multiple acts on the same stage that you allow adequate room and set up time (see How long does the band need to set up? for details) for us and your other entertainers to work to. It would be preferable for you to send to us a schedule of events at the time of booking, so that we can work together to help things run as smoothly as possible on the day.
💥How much Voltage does the Band's equipment require?💥
We get asked to perform at a lot of private parties and outdoor events and this may require some of our customers to hire a generator. The band needs enough power to cater for all of their PA, lighting and musical amplifiers, so if you are having to hire your own generator for an event, the bands power output will be just under 10KVA, which means that you will need to look at a power source of well over this to ensure that your generator will have enough headroom.
💥Can you offer a DJ service?💥
If you would like a DJ service at your event then please specify during the booking stage and for a small extra cost our bespoke and very unique interactive resident female DJ's Peachy Mix & DJ Spin can be booked alongside the band and will be on hand all night to make announcements and take requests from you and your guests. These ladies are getting booked up fast as they love to party and bring an element of fun and energy when the band are not performing. Watch the ladies in action by clicking here: FEMALE DJS
Please refer to the Diamond party package that we can offer:WEDDING BAND
💥What is different about your DJ service?💥
We understand not everybody who books us likes being the centre of attention but our DJ's really try and cater for you and ALL of your guests at your event. So if some of your friends likes to dance all night, get into the party spirit with the DJ's they are the ideal choice to have alongside the band to keep everyone entertained even when the band are not performing - so a whole night of entertainment.
These ladies will talk to your audience and set the fun tone for your party and that in our experience is vitally important if you want the best night possible for not only you but your friends and family aswell. The best feedback we have had about DJ Spin & PeachyMix is that they bring the fun and set a relaxed vibe straight away and who wouldnt want that at their party?
Watch the ladies in action by clicking here: FEMALE DJS
Please refer to the Diamond party package that we can offer:WEDDING BAND
💥What kind of music do you play in between your sets?💥
If you don't book our female DJ service then we can offer the "DJ replacement service" where the band bring background party music to be played post set up, in between the bands live sets and up until midnight or the event finish time (depending on the package you purchase). This music playlist contains popular party music from the soul, motown, funk, pop, indie, and rock genres to get you and your guests in the mood for the band and to create a fun and relaxed atmosphere.
As we have hours and hours of music on our playlist we are unable to list each song that will be played on the night but please feel be assured that the band have catered for lots of tastes. Sonic Boom are more than happy to use your own playlist if you want to bring it along on an iPod, iPhone or other device with 3.5mm headphone jack and they will simply plug it into their PA system.
💥Can I play my own music through the Band's speaker system?💥
Yes. If you require the use of the speakers through which to play an iPod or other device with 3.5mm headphone jack (first dance etc) then please be aware that there will be a small additional cost if you wish to use the bands speakers beyond midnight.
Most of our packages run until this time (midnight) so you will be charged for every hour past midnight that you require the use of our PA and lighting system. If you would like a later finish then please make us aware of this during the booking process because if you do not our music and lights will be turned off at midnight.
Please check our WEDDING BAND packages. If you want to bring your first dance or any special songs to be played through our PA system at any point of the night before midnight, then please bring the device with you and we will happily oblige.
If you would like a DJ service at your event then please specify during the booking stage and for a small extra cost our resident female DJ's Peachy Mix & DJ Spin can be booked along with the band and will be on hand all night to take requests from you and your guests.
Please refer to the Diamond party package that we can offer: WEDDING BAND
💥I have other entertainers /DJ booked what do I need to tell them?💥
If you have booked other entertainment for your event or wedding (singing waiters /DJ's) we strongly recommend that you:
Let them know you've booked a band to entertain your guests at your event and what time we will be arriving to set up.
Send them our SET LIST page link from this website to avoid any duplication of the same songs played or performed at your event.
Let them know how much room we require to set up and perform as we have turned up to events in the past and some performers/DJ's have set up in the middle of the stage/performance area and haven't even considered the space that we may need, so we have been left to set up in the corner of a room in an area that has been too small for us and our equipment.
Let other performers know that they can not use our PA system, Microphones or Instruments as they are not covered under our insurance policy and have not paid for the priviledge. Any professional act should have their own Insurance, PAT certificates and Sound/Muscial equipment. This includes any relatives or any friends asking you to perform on the night. This also avoids the dilemma of us having to charge an external party or you if any of our equipment has been damaged from usage at your event.
We understand you are paying good money for us to ENTERTAIN your guests and it makes our job alot harder if we are placed in an area that is far too small and where we can't engage or face our audience.
As a guide the band needs enough room to cater for drums, bass and guitar set up, PA system and lighting rig. The minimum space required is Width -16 ft (4.87 metres) and Length (depth of stage) 10 ft (3.1 metres).
We are happy to work with any other professional acts on the night to ensure that your event / wedding runs succesfully and smoothly.
💥Does the Band have lighting?💥
Yes the band has its own professional lighting rig which helps to create a fantastic ambience at your event. This includes stage lighting so you can see the band whilst they perform, and lighting to shine on the dancefloor for you and all your guests to enjoy whilst dancing. The band will bring along all their own lighting to your event and this will be included in the overall quotation given to you upon receiving your enquiry. Click on the bands GALLERY page for pictures of their amazing set up.
💥How loud is the Band?💥
Sonic Boom is a high energy function band, we are lively and loud to ensure that your guests are dancing all night. Some venues unfortunately have noise restriction devices called Noise Limiters. These devices are designed to cut the power to the venue if a certain noise level is exceeded.
Very often this level is set to below 90 decibels (db) which is as loud as a Tractor engine and quieter than your average baby crying. As the band uses a live drum kit there is a minimum volume that cannot be changed this is around 115db or higher. You will need to inform the band at the booking stage if there are any noise restrictions or limitations at your chosen venue. Some venues may be agreeable to bypassing the limiter or raising the DB level, however if they are not then it will compromise the band's performance and the package that you are paying for.
We can of course, work with a limiter if the venue are not prepared to allow us a concession, however you should note that the performance will be significantly quieter and will lose some of its energy. Please note we have played events where the singing and clapping of the audience has also contributed to the noise limiter cutting the bands power - so please try and sympathise with us if we have to perform in a venue with one sometimes its not just a question of turning our overall volume down.
Here are some steps you can take to help us both out:
If the venue you have chosen has a sound limiter installed you have to let us know during or after the booking stage - not on the day of the performance. If you don't make us aware and we turn up it may result in us not being able to perform due to not having the right (electric) drum kit with us to control our overall volume. This would mean the venue's limiter would keep cutting our power periodically and without our knowledge.
If the venue you have chosen has had issues regarding nosie complaints with nearby residents please make us aware of this.
If the venue you have chosen has a cut off time for the music or the band please make us aware so we can avoid any dispute with the venue's management.
If you have a wedding or an event planner get them to do these checks for you as they should know the venue inside out.
As a further alternative, we can recommend that you choose one of our ACOUSTIC BAND packages which will still provide you with top quality entertainment for your event just at a lower volume.
The Sonic Boom band always tries to accommodate all types of venue and room size for each and every occasion.
💥What sort of music do you play?💥
Sonic Boom play a range of popular music to get everyone dancing, please see our SET LIST page for all the relevant information. This is updating constantly as we love learning new songs to keep our setlist fresh and fun. Also click here on the bands MEDIA page to hear and see them perform so you get a flavour of what style of music they play.
💥I want to serve food when the Band is on or just before they perform is this a good idea?💥
This is one of the worst party mistakes you can make! One of the most common mistakes to make is organising/serving food just before, or during the Band's first set. This really inhibits your guests ability to fully enjoy the band and will dampen the party atmosphere. No one will dance because they are eating! So please make sure that you allow at least half an hour for your guests to have their meal before the first set start time.
Though we understand each event will differ and you will require specific start times due to venue or time scheduling, we would recommend playing our first set at 9.30pm. This will ensure that your guests have had enough time to let their food go down, get slightly merry and are ready to hit the dance floor.
We will provide background music in the interim between sets. For more information on our recommend event plan, please see "What is the best time to have the band perform?" below.
💥What is the best time to have the Band perform?💥
This can be arranged when booking, we are flexible to the requirements of your event. Here is our guide based on our extensive experience:
6:00pm -7:30pm - Sonic Boom Arrive /Set Up / Soundcheck
7:30pm - 9:30pm - DJ/Background Party Music
TIP: Cut your Cake / Serve Evening Food / First Dance During This Time.
9:30pm - 10:15pm - Sonic Boom 1st Set
10:15pm - 10:45pm - DJ/Background Party Music
10:45pm - 11:45pm - Sonic Boom 2nd Set
11:45pm - 12:00am - DJ/Background Party Music
Please note: These times can be flexible as we understand things can over run slightly.
If you require the use of the bands speakers to play music through after 12am you will be charged per hour.
💥How long does the Band play for?💥
Depending on the event party package you have booked with us will depend on the length of time the band will perform for.
These are usually:
2 X 45 minute sets plus encores
2 X 60 minute sets plus encores
However longer or shorter performances can be tailored to suit your individual requirements and can be selected within our event packages.
Sonic Boom are happy to perform one complete set for you without a break if you prefer - this is sometimes better if things over run during the day and it helps us keep the audiences attention!
Please see the following for our different packages:
💥Maximising enjoyment of the Band - Stage location (Marquee)💥
One area that often gets overlooked when planning out the evening is where the band are going to be located in relation to the dancefloor and the bar. You are paying us to provide your guests with a fantastic nights entertainment and so it stands to reason that you will need to think about the ideal position for us to deliver on our promise - to rock their socks off all night.
It makes our job harder if we are: 1) facing away from the guests or staring at a marquee wall instead of the audience. 2) placed in a corner without enough room for us to interact with and entertain your guests (see How much room does the band need?).
We have included below two "SB approved" marquee layouts and one "not recommended" layout to give you an idea of what we are talking about.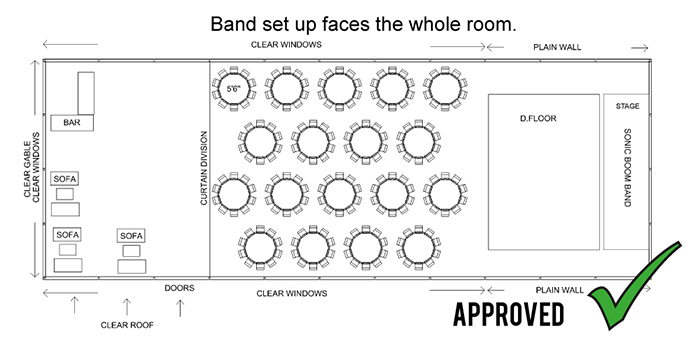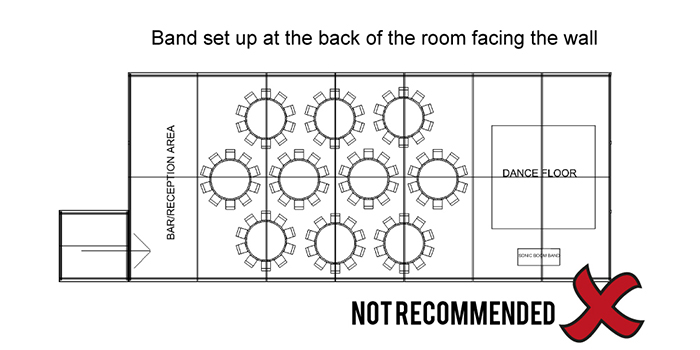 💥Will I need to organise a stage for the Band?💥
Most wedding venues and marquees do not require us to have a stage purposely built as there is usually an area for the entertainment to set up and perform from. We are happy to do this in most cases and find the majority of venues have the capacity to accomodate the entertainment. However if your event is outside then we will need to be placed in an area that is fully covered and on dry levelled grounding so our electrical equipment does not get damaged in the event of any rain. Failure to provide adequate waterproof covering and levelled grounding for us and our equipment could result in us turning up and refusing to set up due to the risk of our equipment being damaged by the unpredicatable British weather.
If your event has more than two to three hundred people attending then we would also advise that you look into hiring stage facitlites for us to perform on as well as security to manage the guests and our stage area. Please note that if any of our equipment gets damaged during the time we are at the event by a guest or anyone else other than the band then we will have to invoice you for the repairs/replacements. It may also lead to us having to stop our perfromance mid set which is something we all want to avoid. We have found from our experience that disclosing all this information during the booking stage that we are in a better position to help you plan a fantastically safe event where everyone has a great time.

Festival themed outdoor weddings are becoming a very popular choice for couples and we have loved performing at them. Our stage requirements for these sort of outdoor events are: Width - 16ft (4.87 metres) and Length (depth of stage) 10ft (3.1 metres).
💥Where do I place a dancefloor?💥
If you are laying a dancefloor down in a marquee or venue please allow at least 3 metres from the back of any wall to the edge of the dancefloor - so the band can actually fit their equipment in and not be on top of your audience. Failure to do this could result in either damage to the bands equipment (which could result in the band being compensated) and possible injury to your dancing guests.
This will ensure that Sonic Boom are not on top of your guests, as this may result in equipment being damaged or your guests injuring themselves by falling or tripping over our equipment whilst dancing. Please remember you will be invoiced for any equipment broken by you or your guests as a result of ignoring this advice given before your event.
💥Can Sonic Boom learn specific songs for my event?*💥
The band has a tried and tested set list which is regularly updated. Any specific song requests can be met subject to an extra fee to cover additional rehearsal time required for new material. *Platinum & Diamond Wedding packages only! Click on the following link to check out our different packages: WEDDING BAND
If you would like to hear a specific song the band can not perform then please specify this during the booking stage and for a small extra cost our resident DJ's Peachy Mix & DJ Spin can be booked along with the band and will be on hand all night to take requests from you and your guests. Please let us know of any special songs or playlists you may wish to hear at least 2-3 weeks before your event so the DJ's can get them prepared for you.
Please refer to the Diamond party package that we can offer:WEDDING BAND
💥Can I choose the whole Bands setlist?💥
The band has a tried and tested set list that is aimed at not only you, but all of your guests to cater for all the musical tastes and ages of people attending your event. We will happily listen to any suggestions you may have, from our SET LIST page that you absolutley love or have seen or heard us perform previously live, but please trust the whole set to the professionals (us) as that is what you are hiring us for, to ensure everyone has a great night. Our experience of performing live for a number of years means we know exactly where to place certain songs during the evening set so they achieve their maximum potential and impact.
* If you would like to write every song in our setlist and be in control of where we play each song, then this will incur an additional charge as it means you are getting a unique bespoke service catered just for you. *
If you would like to hear a specific song the band can not perform then please specify this during the booking stage and for a small extra cost our resident DJ's Peachy Mix & DJ Spin can be booked along with the band and will be on hand all night to take requests from you and your guests.
Please refer to the Diamond party package that we can offer:WEDDING BAND
💥What will the Band wear?💥
The band will dress appropriately for each and every occasion, smart cool or casual. To view pictures please check the bands various social media pages or view our 'Instagram' gallery from this website. To see what we look like click on our GALLERY page.
💥Can someone come and take pictures of my Event/Party?💥
Our professional band photographer Peachy Pix will usually accompany us at events to capture pictures for our social media pages. Check them out if you haven't already! If you haven't already booked her as part of your party package then we suggest you do. She is the photographer who is responsible for all the superb images on this website and the majority of our social media pictures and videos.
Not only is she is very talented and friendly, but as most main wedding photographers leave after the first dance they miss capturing the best parts of the night! Have no fear as Peachy Pix can! So whether its capturing dad dancing , grandad or grandma slow dancing, you going crazy with your friends or singing along with the band you won't have to miss out. Her services are included within our platinum party package that we offer which means you will get a minimum of 30 professionally edited images after your event.
You can add on her evening photography service to all of the other packages we offer by just simply messaging us asking for her services to be included and we can send you a quote. Her standard fee means you will recieve a minimum of 30 professionally edited images after your event. If you require anymore images than this then there will be an addtional fee quoted to you. She will start taking pictures of your party when the band start their set, but if for some reason your main wedding photographer cannot stay for the cutting of the cake and first dance Suzy will be more than happy to take those important photos for a small extra fee. Please let us know at the booking stages if you require this.
This will mean that you will have a minimum of 30 professionally edited high quality images to look back on for years to come. You can't put a price on those sort of memories. Please allow two/three weeks after your event for the images to be sent to you via Wetransfer. You can then simply download them and they are then yours to share and enjoy.
PeachyPix is also one of our female DJ's (Peachymix), so if you have chosen the Diamond party package you will also see her and DJ Spin at your event!
To see more examples of Peachy Pix's work visit her website: www.peachypixuk.com or visit the bands GALLERY page.
💥My main wedding photographer missed the cutting of the cake and the first dance, can we get PeachyPix to take them ?💥
Our event photographer Suzy (PeachyPix) usually starts taking snaps of the party when the band starts their first set - thats what you are paying her for after all- to capture the party.
Your main wedding photographer should cover the cutting of the cake & first dance but Suzy has in the past been asked to fill in at the last minute and take those special shots for couples as some photographers have left, or can not be found and have missed those all important shots.
If Suzy is asked at the last minute by you on the night to take pictures of the cutting of the cake and your first dance (which should be the job of your main wedding photographer) please be aware that once she has edited those particular first dance images and sent them to you with her watermark on, you will be charged a small extra fee per image for the her watermark to be removed from those particular first dance images.
They will then be yours to keep along with the rest of the images you have booked her to take during the bands set(s).
💥Do you have female lead singer who can join you on stage?💥
Yes for an additional fee you can book our female lead singer event package as an add onto the band. Our female lead singer is American vocalist and Youtube Star Nikki Simmons . Nikki has a wealth of musical experience having done her first tour at 17, toured across the entire US,UK and played massive festivals in England, Germany and the world famous Warped Tour in America.
So if you are looking for a female vocalist with lots of energy, stage presence and a fantastic voice then Nikki is available to book alongside Sonic Boom now at your event so you have a blend of male and female vocals- just let us know during the booking process that you want Nikki to also sing with us at your event and we will provide you with a quote. To hear and see Nikki in action and view some of the songs she can perform please click this link to her page: FEMALE SINGER
Watch Nikki perform with Sonic Boom by clicking here: NIKKI SINGING WITH SONIC BOOM
💥Can my sisters/bosses/daughters sing with your Band?💥
If one of your guests would like to sing a song, we are happy to accommodate this request providing that your guest is supervised by a band member. We usually have a spare microphone available. Please let us know in advance if this is the case. Unfortunately we cannot allow guests (even if they play an instrument) to use our equipment as it will invalidate our insurance policy.
If you want to sing with the band on the night please read our Platinum or Diamond Wedding packages by clicking on the following link: WEDDING BAND and if you want to purchase this unique one off experience then please click HERE now.
Please refer to section 09. Health & Safety in our TERMS AND CONDITIONS which states: You agree that you are responsible for the conduct of your clients, staff and guests. If at any time during the event we consider that our equipment or ourselves to be under threat,verbally or physically, we reserve the right to terminate the contract without notice. You agree that the full fee shall be payable to us in these circumstances.
💥Can I see the Band play before booking?💥
You can join the band's various social media pages to see the latest gig information (click the Find us on facebook tab at the bottom of the page to see all of our public showcases listed as events). Alternatively we will post regular updates on our social media pages which are shown here on our website. Private functions are not usually listed, but most public performances are regularly announced which you are welcome to attend. If you do attend one of our shows please come and say hello.
Can't make it to a Sonic Boom gig? Then check out our brilliant live videos by clicking on our MEDIA page to watch lots of live videos on our bands facebook page or YOUTUBE channel. They should give you a flavour of how we get a crowd going and what to expect from a Sonic Boom show.
If you can't make a show but want to read some comments from our previous customers please visit our FEEDBACK page.
💥Do I need to Feed the Band?💥
Sonic Boom will normally be attending your event for a minimum of 7 hours, during this time we can get a little peckish, so a provision for food is built in to our contract, so that we have enough energy to give you the best high energy performance that we can. Please see our TERMS AND CONDITIONS page for details.
💥Do we have provide a changing room for the Band?💥
Although we don't expect or demand a changing room we would love it if we were considered if there are events we have been booked for where we have long waiting times before we hit the stage. A warm well lit area for the band to chill in or get changed would be really appreciated. For most marquee and venue weddings we understand this may not be possible and we are happy to mingle with you and your guests (we are a friendly bunch) or find somewhere nearby to relax before we smash your party!
💥Can we hire your PA System/Microphone for our speeches?💥
We usually arrive at a venue at around 6pm after the wedding dinner and speeches to set up and soundcheck - however lots of couples get married in grand venues or large marquees and require the use of a microphone and PA system for their speeches earlier in the day to all of their guests so everyone can hear them! Some venues already include a PA system/microphone for speeches as part of the wedding package you have booked with them whilst others do not have the facilities to provide this service.
Don't worry if they haven't, for a small extra cost you can book us to arrive a few hours earlier and set up our PA system and a microphone so all of your guests hear your fantastic and funny speeches! We will also have someone from the band on hand to assist if any technical problems arise so you know you are in safe hands. Please ask for this service specifically during the booking stage and we can supply you with an addtional quote for this extra service.
Don't underestimate how quiet some speeches can be when you are delivering it to lots of people. It is a really important part of the day especially if your family wants to say something poignant or from the heart and lets face it - who doesn't look forward to best mans speech?
💥Can you send me a risk assessment?💥
We have been asked in the past to send over a band risk assessment by event organisers. This is usually for large corprorate events.
We can supply you with one that we have completed and adhere to at every show we perform at. This identifies all potential risks and how we have addressed each one to minimise the risk of potential injury or damage to us, our equipment and to you and all of your guests.
By reading this FAQ pack we have given you lots of suggestions of how we feel you and your organiser/venue can also minimise any potential hazards at your event , for example- band area/ staging /safe electrical power sources/ enough power for us/ security to manage large scale audiences. All of the bands equipment is PAT tested and we have public liability insurance, both of which can be sent to your venue or wedding planner/events organiser.
Managing risk is not just the bands responsibility but you can be rest assured we take this very seriously and will always be professional and adhere to safe working practices at every event we are booked to perform at. If we do identify a potential risk during the booking stage we will make you aware of it and advise you on possible solutions if we can. If you identify any potential risks please let us know as soon as possible so we can address it together.
💥Will I have to pay the Band an Advance Payment?💥
An advance payment is required for all private functions in order to secure the date as we do not take provisional bookings. This will mean the particular date you have requested is held just for you and we will be turning other customers away for that date once your advance payment has been paid. As stated in point 04. Booking Process in our TERMS AND CONDITIONS this advance payment is non refundable. The remaining payment is required the week leading upto your event via BACs transfer.
💥Can I book the Band provisionally?💥
Unfortunately, we don't take provisonal bookings as our demand is such we would be turning clients away on popular dates. However when you make an official enquiry with us it will be logged in our system and you will be given first refusal should anybody else enquire for the same date.
💥What happens if one member is really ill or unable to perform?💥
From our years of experience gigging,one thing you can not guarantee is someone falling ill unexpectedly. Now we have all been unable to go to work due to illness and being a professional act we do have musicians we know and trust on standby in case this happens. We will only call upon them like superheroes in extreme circumstances, and luckily all Sonic Boom band members are able to sing live, so if one member is unable to sing usually the other members can.
This may mean we are unable to perform certain numbers and we would have to alter the set alittle but what it wont mean is that we just dont turn up. We will let you know of any changes and still arrive at your event ready to do the best job we can. We take pride in what we do so you will be notified of any line up changes if and when they occur. This is also covered in our TERMS AND CONDITIONS.
💥How do I book an add-on to my selected package💥
We have various add on's available to our packages including DJ's, Photographer and Videographer. If you are taking adavantage of one of these add ons, we would like you to note that both the DJ and Photographer will be part of your Sonic Boom booking. All videography add ons are provided by our our awesome friends and 3rd party Suppliers "So Franc Films" and "Laury Jasper" so your contract for all videography will be set up directly by yourselves with them. We will confirm availability of the videographer prior to you booking and once confirmed will provide you with their details / introduction via e-mail to agree your separate contract. This is also covered in our TERMS AND CONDITIONS.
💥How much notice would I have to give if I wanted to cancel my booking?💥
See our TERMS AND CONDITIONS page for details. Please be aware that you will lose your advance payment if you cancel an event with us.
💥I want to book the Sonic Boom Band, what do I do next?💥
Please click HERE to go to our quote page and contact the Band directly.
💥What kind of clients have Sonic Boom performed for before?💥
With many years of gigging experinece Sonic Boom have performed with renowed celebrities including: DJ Scott Mills, Comedian Tim Vine and You Tube sensations Camille and Kennerley (The Harp Twins).
Previous Clients that have booked Sonic Boom have included:
Marks & Spencer
Talent in Logistics
Costa Coffee
Shropshire Law Society
Oswestry Medical Society
Shropshire Young Farmers
Charlton Secondary School
Climbing Out Charity
The Lord Hill Hotel
Crossbar Football Charity
Shropdoc
The British Army
Royal Air Force
Princess Trust
Guest Line
Self Help Africa
Shropshire Council
Telford & Wrekin Council
Crown Lift Trucks UK
Shrewsbury Rugby Club
Diva Dubs Festival
Freedom Finance
VW Festival
RAF Cosford
Cranage Beer Festivals and many others.
So you can be sure you are hiring an award winning band and a group of professionals who have performed at a high level and take pride in the service that they provide.
💥What venues have Sonic Boom performed at before?💥
To give you an idea of the stunning venues we have performed at around the UK here are some of the ones we can remember. It can also help if you are undecided about where to get married. So check the list out below to see if yours is on here :
1/ The Mytton & Mermaid Atcham 2/ The Lord Hill Hotel Shrewsbury 3/ Delbury Hall Cravern Arms 4/ Enville Hall 5/ Soulton Hall Wem 6/ Carden Park Hotel Cheshire 7/ The Albrighton Hussey Shropshire 8/ The Albrighton Hall Shropshire 9/ Shrewsbury Town Football Ground 10/ Telford United Football Ground 11/ Newport Cricket Club 12/ Garthmyll Hall Near Welshpool 13/ Gregynog Hall - Newtown 14/ The Citadel Wem 15/ Drapers Hall Shrewsbury 16/ Pontesbury Village Hall 17/ Mill Barns Bridgenorth 18/ Pim Hill Barns Shropshire 19/ Lilleshall National Sports centre - Lilleshall 20/ Ludlow Racecourse 21/ Moor Farm -Baschurch 22/ Slaters Hall Staffordshire 23/ Tern Hill Hotel Shropshire 24/ Hadley Park Hotel - Telford 25/ Madeley Court Hotel Telford 26/ Bicton Village Hall Shropshire 27/ Netley Hall Donnington Shropshire 28/ Telford International Centre 29/ Wroxeter Hotel - Shropshire 30/ Rowton Castle - Shropshire 31/ Sweeney Hall Oswestry 32/ Winstanstow Village Hall 33/ West Midlands Show Ground Shrewsbury 34/ Carriages Oswestry 35/ Palms Hill Near Wem 36/ Iscoyd Park Whitchurch 37/Somerford Hall Telford 38/Hawkstone Park - Near Wem 39/ Wynstay Hotel Oswestry 40/ Buckatree Hall Hotel Wellington 41/ Ruthin Castle Ruthin 42/ Park Hall Hotel Shifnal 43/ Lion Quays Oswestry 44/ Brompton Farm House Shropshire 45/Adcote School Shropshire 46/Ironbridge Gorge Musuems 47/Telford Hotel and Golf resort 48/ Shrewsbury Golf Club 49/The Hundred House 50/Walcot Hall 51/Sweeney Hall Hotel 52/Moreton Hall 53/ Rosehill Manor Hotel Market Drayton 54/Ludlow Caste 55/Fishmore Hall Ludlow 56/ The Shropshire Telford 57/The Old Rectory Wem 58/Wilderhope Manor - Much Wenlock 59/ Davenport House - Bridgenorth 60/Combermere Abbey Whitchurch plus many more Marquee weddings. 61/ Alveston Manor - Stratford Upon Avon 62/ Morris Hall Shrewsbury 63/ The Barns Cannock 64/ Pendrall Hall Codsall 65/ Tower Hill Barns Wrexham 66/ Flash Leisure Centre Welshpool 67/Somerford Hall 68/ The Mere Resort Knutsford, Cheshire 69/ Morris Hall Shrewsbury 70/ Hawkstone Hall Shropshire
💥Can I follow you on Social Media?💥
Of course, this is a good way to stay connected with us, to follow our adventures, to see where we are playing to come and see us, to enter competitions we hold from time to time and to tune into FREE Party Planning and Wedding Advice sessions we hold. We always follow back and interact with our followers and would love you to be part of our journey moving forwards into the future. You can find all of our social media links at the top right hand side of this website on every page. Here are our social media links to help you find us:
The Band
💥Facebook: www.facebook.com/sonicboomband007
💥Instagram: @SonicBoomBand
💥Twitter: @SonicBoomBand
💥Tik Tok: @SonicBoomBand
💥SnapChat: @SonicBoomBand
💥Linkedin: Sonic Boom Band
💥YouTube: Sonic Boom Band
The DJ's
💥Instagram: @djspin_peachymix
💥Twitter: @DJSpinPeachyMix
💥Tik Tok: @djspin_peachymix
The Photographer:
💥Instagram: @peachypix.photography
💥Twitter: @Peachypix18
💥Can you recommend other Suppliers/Venues💥
Having had years of experience of playing at a wide range of events across the UK alongisde some of the most amazing trusted suppliers, we can recommend other services to you that we know and trust will do a great job. If you book us we can recommend and work alongside fantastic:
Daytime Photographers
Wedding Planners
Stage, Sound & Lighting Hire
Videographers
Venues
Marquee
Caterers
Bars
We have also teamed up with other talented entertainers. If you are looking for live music throughout the day or multiple acts we can put forwards trusted people we have worked alongside at past events that we highly recommend.
This will mean you get a variety of entertainment throughout the day even if you book us. We can also take the stress away of you hunting round for multiple acts by booking these acts via us.
💥Can you meet up with us in person before our Event/Wedding/Party for a Consultation? 💥
One of the main reasons we have decided to put so much time and energy into writing such a comprehensive FAQ pack, and having such an informative website is so that you have all the information at hand and can digest it at your own pace. Every event is different and we appreciate this and this is again why we ask all of our customers to read this FAQ pack and to put as much detail in your initial message to us as possible, regarding any special timings, layout of stage area or anything that we need to be aware of like a noise limiter. This can save us all time and unnecessary face to face meetings beforehand for both parties.
Please be aware that any time we have to spend at meetings where we have to attend in person or online for your event, wedding or party will result in you or your organisation being billed for our time, travel and further expertise. We are always here to help and will bend over backwards for our customers but we are a busy bunch and when we are not performing our time is just as precious as yours! If there is a question you have that is not covered in this FAQ pack please message us and we will be happy to try and answer it for you.
💥 We are here to help make your Event/Wedding/Party Amazing!💥