💥About Sonic Boom💥
💥 Sonic Boom are a Multi Award Winning High Energy Professional Event/Party Band 💥
Sonic Boom have performed at events with celebrities including: DJ Scott Mills, Comedian Tim Vine, Eddie The Eagle and YouTube sensations Camille and Kennerley (The Harp Twins) and even appeared on the BBC!
Sonic Boom give 110% at every show that they play and are highly regarded by all their previous clients as providing the highlight to their special day or event (please see our feedback page)
The Band and DJ's can be booked to perform at events such as Corporate Bashes, Weddings, Birthday Parties, Award evenings, Military Functions and Festivals all across the UK and Worldwide. With a Proven Live Repertoire that gets any crowd pumping!
Sonic Boom always deliver a high quality and entertaining performance, with friendly and polite members who take pride in delivering a service that leaves you and your guests satisfied and worn out from partying all night long. So if you want to party like a rockstar you've come to the right place....#partylikearockstar Instagram Pages:Band:@sonicboomband DJ's:@djspinsisters
Awards - Best Wedding Band In The West Midlands - Lux Life Global Wedding Awards 2023
Community Champion Award Winner (Matt) - Shropshire Music Aawrds 2022
Best Wedding Band In The West Midlands - Event Entertainment Awards 2019
Guitarist Of The Year - Guitarist Magazine Of The Year Winner (Simon) 1998
💥Meet the Team💥
💥About Matt 💥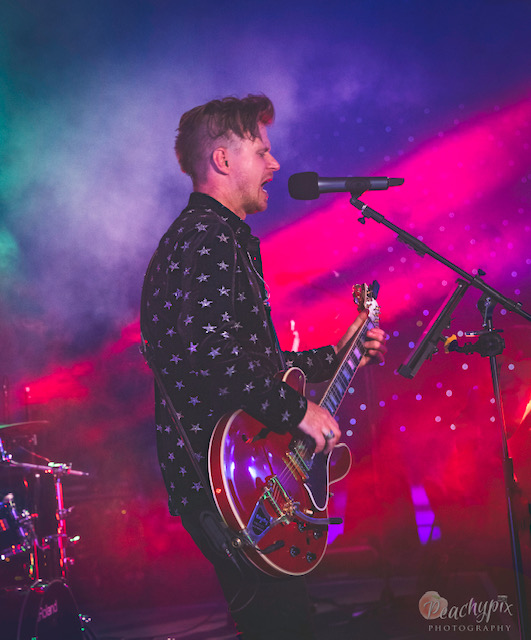 What can we say about our Guitarist/Vocalist Matt?! With a haircut that's a cross between Jonny Bravo and a member of the Peaky Blinders gang, this guy gives 110% at every show! Here is the guy that isn't afraid to make those important announcements down the microphone or entertain your audience like he is rocking out in front of a full house at Wembley during his performance.
Matt is a self taught musician who picked up the guitar as an escape from growing up in the social care system. Matt has progressed from those early days to go onto to have over 18 years experience playing in Function bands that have played across the UK and overseas. Matt is also an accomplished songwriter who released his first solo EP in 2012 and is releasing his second album under his stage name www.sonnetsmith.com . He is also a session musician and loves spending time in the studio laying new original tracks down with other artists and bands.
With licks that would make Kiss jealous, Matt also brings the comedy element to the band! During the week, Matt is a youth worker /motivational speaker/trainer for www.smashlifeuk.com and enjoys meeting people from all walks of life. Watch out for Matt knee sliding on the dancefloor or jumping in the air with his favourite red or black Gibson ES 355 guitars, all whilst playing your favourite guitar solo's! Matt also received the Community Champion Award For Making A Difference In The Community in 2022 presented by The Shropshire Music Awards.
💥About Kev💥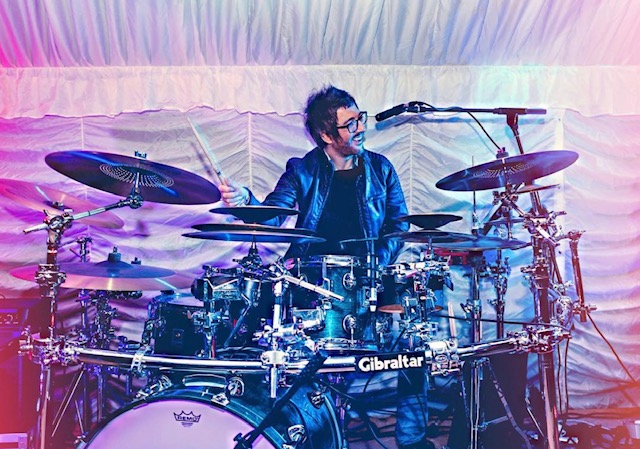 What do you call someone who hangs around with musicians? The Drummer! Meet Kev... He's the guy who really knows how to keep the beat pumping all night long! (Insert Lionel Richie impression here) Kev also sings lead vocals all whilst keeping the groove.
Kev - our Drummer/Vocalist has experience playing with a multitude of bands with varying genres including: Blues, Soul, Progressive Rock, Jazz and Pop. He has worked with Chicago based Camille and Kennerly aka 'the Harp Twins', is currently the drummer for international band 'Eumeria' and has also been featured in 'Modern Drummer' magazine (2014) and is endorsed by Duallist drums and pedals. Kev plays a top of the range TAMA drum kit when he gigs with Sonic Boom and with only two like his in the UK, you can be sure if you book us you will be hearing and seeing a very unique piece of kit!
Although Kev hits hard, he is mild mannered and very approachable. Kev is the scientist of the band and loves nothing more than mixing and mastering tracks in the studio for various artists and producing our great live sound. Kev is also a graphic designer who is responsible for designing all of the Sonic Boom marketing and website. He can usually be found throwing questionable shapes on the dancefloor when he isn't playing his now infamous Sonic Boom drum solo!
💥About Simon💥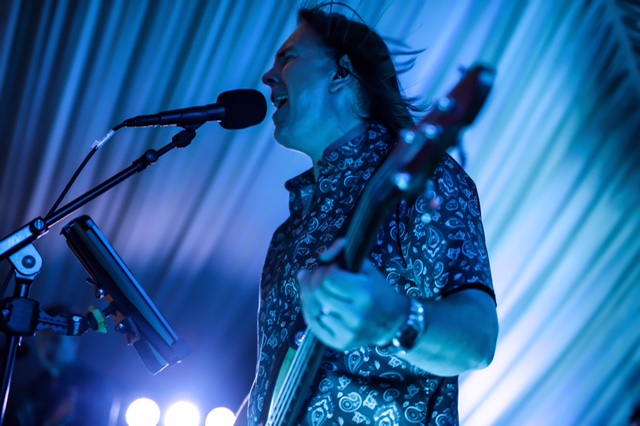 Who lays down the groove all night and keeps all the guests dancing - that will be our ultra cool bass player and superb lead vocalist Simon.
Simon is famous in his own right having won guitarist of the year in 1998, appeared on ITV's 'Stars In Their Eyes' programme if you dont believe us you can watch his impressive performance by CLICKING HERE Simon has toured and written with Welsh metal outfit Budgie (whom world famous band Metallica cite as an influence and have covered some of their songs). Simon has also amassed a large fan base of his own over the years having performed across the UK in his 'One Man Rock Show' which displays his legendary guitar playing skills. Simon has also performed as part of musical theatre production shows that have toured throughout the West Midlands, most notably in the We Will Rock You Musical at The Wolverhampton Grand Theatre.
As well as gigging extensively with his one man rock show Simon also teaches people of all ages guitar and bass. Simon has taught some very talented musicians over the years who have gone on to have great careers within the music industry.
A humble and very experienced musician with expertise in lead vocal, guitar and bass duties you can be sure a Sonic Boom show with Simon will blow you away. You can catch Simon at shows rocking out with his long hair and belting out the party classics with the rest of the band!
💥About Suzy (Band Photographer & DJ)💥
Our super friendly band photographer Suzy (PeachyPix) is also part of the Sonic Boom team. Suzy can be booked alongside the band to capture all of your special party memories. Suzy started her photography journey in 2015 and is responsible for all of the images and videos you see on this website and on all of Sonic Booms various social media accounts.
Having now established herself as a professional photographer Suzy has lots of experience capturing priceless images at corporate events, weddings, birthdays, christenings, cake smashes and of new born babies with their families.
With a very friendly and natural approach Suzy puts her all into making sure you will have snaps to look back on in years to come that will make you laugh over those cringe dance moves or shed a slight tear over a loving moment caught between the newly weds.
Suzy can be found asking your guests to strike a pose whilst she captures those priceless memories. To see examples of her work please visit her website: www.peachypixuk.com
Suzy can also be booked as one of our female DJ's (Instagram Page: @djspinsisters ) as part of our diamond event package, her friendly nature and warm energy means she is approachable and will listen to your song requests on the night.
💥About Nikki (Female Singer Package Add on)💥
Nikki is a bubbly , chatty , happy all American girl who has an amazing vocal range. Nikki isn't afraid to jump around and get involved whilst performing, so much so we have sometimes lost her in the crowd of people partying and dancing away! Aswell as being a great vocalist and Youtube star Nikki is vegan, loves animals and enjoys a good book/film. Nikki is available to book alongside the band for your event so let us know if you would also like some female lead vocals alongside our male ones and we will send you a quote for her services.
You can read Nikki's musical biography and listen to her sing by clicking this linK: FEMALE SINGER