Set List
50s/60s
Johnny B Goode
Blue Suede Shoes
Saw Her Standing There
8 Days A Week
Great Balls of Fire
I Feel Good
You Really Got Me
Soul Man
Wipeout
Hey Jude
I'm A Believer
Hey Baby
My Generation
Sweet Caroline
All You Need Is Love
Do you love Me
Twist & Shout
70s
Go Your Own Way
Superstition
Play That Funky Music
We Will Rock You
Don't Stop Me Now
Merry Xmas Everybody
Whole Lotta Love (Instrumental)
We Are The Champions
Proud Mary
Hot Stuff
Disco Inferno
Crazy Little Thing Called Love
Brown Sugar
Rock And Roll
80s
A Little Respect
Livin' On A Prayer
You Give Love A Bad Name
Summer of 69
Town Called Malice
Simply The Best
White Wedding
Heaven Is A Place On Earth
Baggy Trousers
Billie Jean
Tide Is High
Addicted To Love
Never Gonna Give You Up
Sweet Dreams
Baby I'm your Man
Dancing In The Dark
90s
All The Small Things
Angels
Don't Look Back In Anger
Wonderwall
Breakfast At Tiffany's
Basket Case
When You're Gone
You're Gorgeous
Good Ridance (Time Of Your Life)
Champagne Supernova
Cigarettes and Alcohol
Iris
What's My Age Again?
Design for Life
What's the Story (Morning Glory)
Live Forever
Song 2
I'll be there for you (Theme from Friends)
Everlong
My Hero
My Own Worst Enemy
Turn Around
Bartender & The Thief
The Day We Caught The Train
Alright
Bittersweet Symphony
Boom Boom Boom
Some Might Say
Roll With It
Breathe
I like to Move it
Welcome to Paradise
Parklife
She's Electric
00s
Mr Brightside
Dakota
I Believe In A Thing Called Love
Teenage Dirtbag
Sex on Fire
It's My Life
The Rock Show
Use Somebody
Last Nite
Seven Nation Army
Are You Gonna Be My Girl
I Bet You Look Good On The Dancefloor
Gay Bar
Danger! High Voltage
Buck Rogers
American Idiot
Yellow
I Predict a Riot
First Date
Chelsea Dagger
By The Way
Poker Face
Chasing Cars
Little by Little
10s
Shotgun
Sugar
Counting Stars
Get Lucky
Shut Up And Dance
Feel So Close
ROAR
Suggested First Dance Songs
Iris
Wonderwall
Angels
You're Gorgeous
Time Of Your Life
Simply The Best
Heaven is a Place on Earth
Feel So Close
Yellow
Chasing Cars
All You Need Is Love
Female Fronted Sonic Boom Songs
Titanium
Teenage Dream
Domino
Wrecking Ball
Sugar
Poker Face
Since U Been Gone
I'm Just A Girl
Misery Business
Heaven Is A Place On Earth
I Believe In A Thing Called Love
We Will Rock You
Love Machine
Go Your Own Way
Teenage Dirtbag
Whole Lotta Love
When You're Gone
Livin' On A Prayer
I'm With You
Raise Your Glass
Hot And Cold
Roar
Diamonds
We Found Love
Lady Marmalade
Cake In The Ocean
Clarity
Sweet Child O' Mine
Ride On Time
Rhythm Of The Night
Plug In Baby
Yellow / Chasing Cars Mash Up
*Please note that any of the songs in our set list can be performed as a first dance. We are constantly updating our set so keep checking back.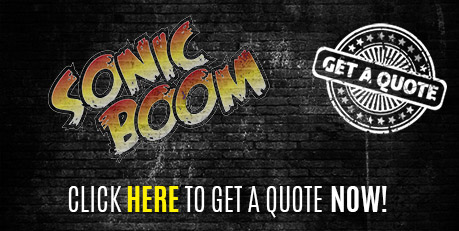 Listen Now
Wonderwall
Mr Brightside
Shut Up and Dance
Johnny B. Goode
Angels
Misery Business - Female Singer
SB News / Gig Diary

Share
Copyright © 2019 Sonic Boom. All rights reserved.